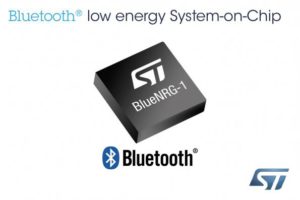 Bluetooth low energy technology is ideal for low power sensors and smart connected devices such as wearables, beacons used in malls, keyless access systems, intelligent remote controls, monitoring systems or industrial and medical displays. ST Microelectronics has released a compact chip containing the essential for connected objects.
This new component is interesting for all the connected objects that appear on the market today. With its low consumption, it is ideal for intelligent sensors and connected devices.
Although low consumption, a powerful microcontroller for necessary data processing is embedded while providing Bluetooth communication service and standard communication interfaces.
This SoC (System on Chip) contains:
Radio emitter-receiver very low power consumption;
Fast switching between "low energy" and "active mode" for increasing life of battery until years instead of months;
RF power output reaches +8 dBm;
Processor ARM Cortex-M0 32 bits cadencé à 32 MHz low consumption;
160 ko of flash memory;
Numerical microphone input;
Operationnal temperature until 105 °C;
Stack Bluetooth Low Energy v4.2 for a higher security level of data;
10 bits analog-Ddigital converter;
I2C, SPI et UART;
Until 15 I/O;
SMD compact QFN-32 of 5 x 5 mm or WLCSP-34 of 2,7 x 2,6 mm.
Also this SoC is complemented by a comprehensive development ecosystem that includes a software development kit with API interfaces, sensors, control circuits, sample applications.
Source : Solution Bluetooth Low Energy mono-circuit | Electronique-ECI