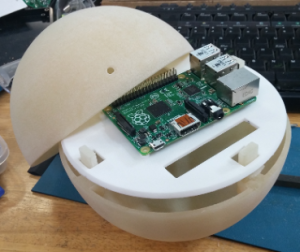 Instead of using a classic case or making it in a standard form, Cabe Atwell decided to make a spherical enclosure for its Raspberry Pi.
In fact, it is much more than a simple case because this ball contains a battery with a regulator, a wireless HDMI adapter, an accelerometer and a strip of LEDs.
It is interesting that this sphere becomes interactive and that it is possible to control various actions by rolling the ball. Integrated LEDs in the housing give a feedback. See the video below.
His device cost him not far from $ 600, mainly for the wireless HDMI adapter and the huge volume of 3D printed parts, but it has the merit of being original and innovative!
Source: Pi Ball – A Spherical and Interactive Raspberry Pi 2 case